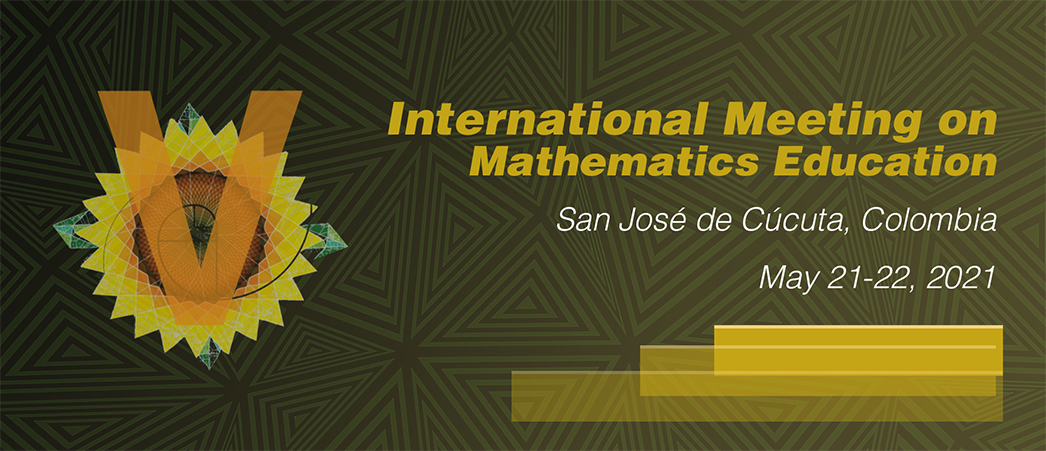 The objective of the V International Meeting on Mathematics Education (V IMME) is to create and maintain a space that privileges and promotes the culture of mathematics, reflection and discussion on education and application of mathematics, statistics, its history, evolution and didactics, and its interrelation with the sciences. At the meeting, researchers, scientists and mathematics teachers socialize the results of research, consolidate networks for the exchange of successful experiences, in order to strengthen mathematics education at different educational levels, promote innovation, and encourage the creation of educational policies, models, strategies, tools and techniques in various areas of knowledge, and encourage students' interest in research.
Important Dates
Deadline for abstracts submission:
From April 18 to May 16, 2021
Acceptance for abstracts:
From April 25 to May 20, 2021
Full payment:
May 21, 2021
Event opening:
May 21, 2021
Paper submission:
(up to 7 pages)
May 21, 2021
Register
Registration type
Until May 21, 2021
(COP: Colombian peso)
With manuscript submission:
$ 370,000
Without manuscript submission:
(UFPS students)
$ 50.000
&nbsp&nbsp Congress participation.
&nbsp&nbsp Submitting an open-access proceeding (Participant with manuscript submission).
&nbsp&nbsp Welcome reception on May 21, 2021.
National Transfer (Transfer from Colombia):
Bank: Bancolombia
Account Number: 476 - 715642 - 74 (Savings Account)
Beneficiary name: FORISTOM (NIT: 900974223-1)

&nbsp&nbspNote 1:
The payment of the registered participant with publicación only corresponds to the editorial process of one open-access manuscript submitted in the Journal of Physics: Conference Series (JPCS) of the Institute of Physics (IOP).


&nbsp&nbspNote 2:
Authors who do not comply with the editorial policies will not be refunded the money received by the inscription with manuscript submission.


&nbsp&nbspNote 3:
The submit of each open-access proceeding additional in the Journal of Physics: Conference Series (JPCS) of the Institute of Physics (IOP), will have a fee of COP $400,000.00 (four hundred thousand Colombian pesos).


&nbsp&nbspNote 4:
Please, send a message at email info@foristom.org, with the subject "payment of editorial process V IMME", and attach the voucher payment (either a receipt generated by the online system or a scanned image of the physical receipt). In the body of the message please indicate the abstract number (abstract ID assigned by the system).


&nbsp&nbspNote 5:
The Academic Scientific Committee and Editorial of V IMME only will allow two manuscripts by the author or co-author.